21 elements by "Alchemy England"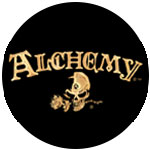 Alchemy England
Fantasy & Gothic designs for your devices
Alchemy England is a cult design brand from 1977 that originated in the music industry with punk/metal head accessories for various rock groups, such as the Rolling Stones, Metallica, Iron Maiden and others.
Nowadays Alchemy England is the world's best known and most popular cult lifestyle brand in the gothic and fantasy scene with a presence in over 58 countries worldwide.
Whether it is your phone case, tablet case or foil for your gaming console or laptop, there will definitely be enough space for your favorite Alchemy England design!