22 elements by "Froilein Juno"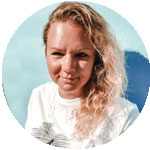 Froilein Juno
ENHANCE YOUR EVERYDAY WITH YOUR FROILEIN JUNO PHONE CASE
Froilein Juno loves shapes and colors, works with different techniques and materials and skillfully combines analog and digital drawing. For her, being an artist means letting herself drift, not adapting, but doing whatever she feels like at the moment. This results in completely different works that reflect Froilein Juno's many facets.
Choose your favorite design and treat your smartphone, tablet and more to a little art!